About Branch's Driving School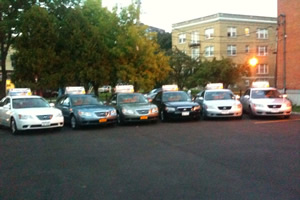 MISSION STATEMENT
Branch's Driving School Incorporated delivers premium quality driver education services to the Central New York community. Our programs emphasize driver safety, driver responsibility, and driver commitment. Our goal is to educate, enhance, and equip driver's with the knowledge to become defensive drivers and recognize the lifelong consequences of their driving behavior.
HISTORY
Branch's Auto Driving School was established in April of 1963. In June of 1985 the company was incorporated and the new name became Branch's Driving School, Inc. Branch's Driving School began as a one man operation and has grow into a well trained competent staff of over twenty dedicated employees.
Andrew W. Branch, BS -Founder Deraux L. Branch, MBA - President
Syracuse University - Class of 1957 Columbia College - Class of 2005 / VP SunTrust Bank
*** CELEBRATING 50 YEARS IN 2013 SERVING THE GREATER SYRACUSE COMMUNITY***
In 2014 we celebrate 51 years of service to the Syracuse, Central New York area. All of the staff and management of Branch's Driving School wish to thank the Central New York Community for their support and trust. Everyone here will endeavor to continue the tradition of quality service for the next 51 years and beyond!
Welcome to Branch's Driving School Inc., "The Driving School People". We are very pleased that you have made the choice to let us serve you. We take pride in our work and are totally committed and dedicated to improving our quality of service. Your feedback will assist us in achieving that goal.